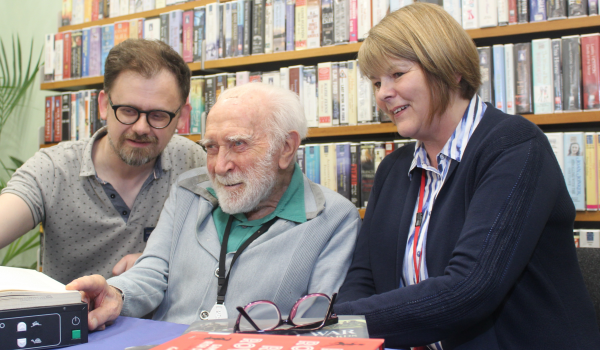 L-R Alistair Wilson (Dundee Libraries), Geoffrey Hillyard (Library Customer) and Carole Martin (Scottish War Blinded).
---
Dundonians with visual impairments are now able to access books and newspapers thanks to a piece of cutting edge technology donated to Dundee Central Library by Scottish War Blinded.
The Eye-Pal SOLO electronic vision aid, produced by Freedom Scientific, can scan several pages and documents, reading out loud any scanned information within seconds. Its speed and capacity to scan up to 20 pages per minute means that it is particularly suited to material such as books, magazines and newspapers, as well as post. It's straightforward to use and the speed with which it can translate print text makes a very good vision aid option for people who struggle to read text.
The device was initially highlighted to the Library service by veteran Geoffrey Hillyard who is also a regular customer.
Rebecca Barr, Director of Scottish War Blinded, commented;
"We're delighted to be able to donate this Eye-Pal SOLO to Central Library. Losing the ability to read due to a vision impairment is an issue that affects thousands of people. Reading is vital to a person's independence and is not just about enjoyment alone. Whether it's checking your mail, medication labels or bank statements, or keeping up-to-date with newspapers – losing this ability can feel devastating if you have no support."

"It is so important to make information and literature as accessible as possible. It's therefore a pleasure for Scottish War Blinded to work together with Leisure and Culture Dundee to help make the Central Library's wonderful offerings even more accessible to members of the public with a vision impairment."

"Many of the Scottish War Blinded veterans have found the impact of audio vision aids – just like the piece we have donated to Central Library – to be life-changing, enabling them to regain their love of reading and maintain their independence despite their sight loss. We very much hope library visitors will get as much enjoyment from the use of this piece of equipment as many Scottish War Blinded members do."
Sinclair Aitken, Chair of Leisure & Culture Dundee said;
"Libraries continue to be the best place in our communities for everyone to access the information they need. It is therefore fantastic that we are now able to offer the use of this piece of equipment to everyone with a visual impairment in the cityand we are very grateful to Scottish War Blinded for the donation."
Anyone interested in trying the Eye-Pal in the Connections Department at Dundee Central Library can drop in or contact connections@leisureandculturedundee.com