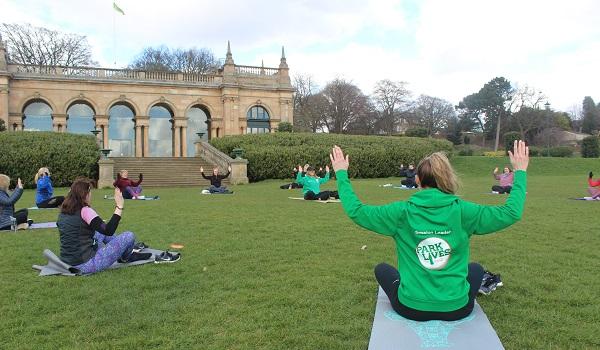 The easing of Scottish Government restrictions now permits up to 15 people to take part in non-contact sport and fitness classes outdoors and that means that our ParkLives programme can slowly get back to delivering FREE activities in parks and greenspaces across Dundee. Parklives is initially restarting with a limited programme and will be gradually increasing the number of classes over the next few months. We hope to be back to normal operation prior to June 2021, if restrictions allow.
ParkLives is a community outdoor activity programme fully funded and delivered by Leisure & Culture Dundee. ParkLives started in Dundee in 2016 and is a free and easy way for you to get the best out of your local park. It's not about breaking world sporting records, just about having fun.
The first session since restrictions eased took place at Baxter Park on Wednesday (25 March) and led new and returning participants through a Pilates and Yoga session to improve, strength, balance and flexibility. The sessions are for everyone regardless of ability and there is no cost to take part. The ParkLives team are keen to support everyone's physical and mental wellbeing and see their activities as being important to the city's recovery from the pandemic. The sessions also have measures in place to keep everyone safe and markers to keep everyone socially distanced.
Lisa North, Health & Wellbeing Officer at Leisure & Culture Dundee said
"We are delighted to be back and it is amazing to see people outdoors exercising and smiling again. We know just how beneficial exercising outdoors can be, it can really help relieve stress and leave participants feeling more positive for the rest of the day. Despite being socially distanced, our sessions are a safe and enjoyable way to socialise and meet new people. We know how important exercise is to everyone's physical and mental wellbeing and we want to play our part in improving mental health across the city. The best thing is that our sessions are free, so are really accessible to all."
First time attendee, Mary O'Connor said
"It was nice to stretch and get away from the desk and it's good to be outside. Everybody was spaced out but we could still see the instructor."
Anne Foran, who has been attending ParkLives activities for the past 2 years said
"It feels great to be back, everyone is social distanced and it's good to be out exercising again.
Shahida Naeem, who was also a regular before the pandemic said
"I really enjoyed the session, it really stretches your muscles. It's so good to be part of a group again. It's great that more and more people are using Dundee's parks, this is my local park and I see it being used a lot more now."
Ali Henderson , the Yoga and Pilates instructor who led the class said
"It was just wonderful to back. I teach online but it's absolutely wonderful to exercise outside. It was just fabulous, it gives you a great sense of wellbeing to see everyone back. Baxter Park is one of my favourite places to teach. I've taught all around Dundee but I love Baxter Park very much. It's free, what could be better."
Booking is essential via the Eventbrite website and a reduced programme is currently in place. To find out more about the latest FREE ParkLives Dundee activities follow them on Facebook, Twitter and Instagram.