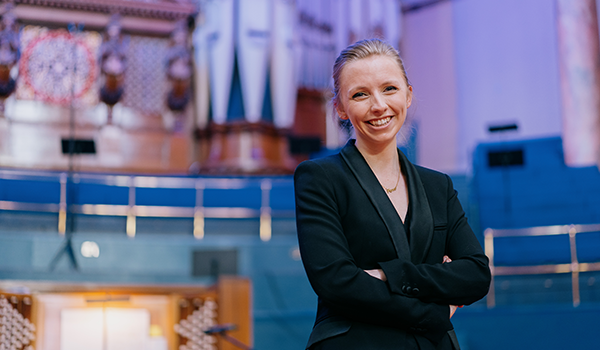 Caird Hall in Dundee will be celebrating their 100th anniversary in 2023 and organist Anna Lapwood will give the opening concert of a year-long programme of performances for the centenary on Saturday, 28 January 2023, at 2.30 pm.
The concert will provide a sparkling and eclectic programme of music for the organ, including favourites by Johann Sebastian Bach & Claude Debussy, new gems commissioned by Anna to shine a light on contemporary female composers, and Anna's new transcriptions of some of the best-loved film soundtracks of our time.
Anna Lapwood is an organist, conductor, and broadcaster. She is Director of Music and a Bye-Fellow at Pembroke College, Cambridge. While studying at Oxford University, Anna became the first female in Magdalen College's 560-year history to be awarded the Organ Scholarship. In 2022 she was appointed Associate Artist of the Royal Albert Hall and Artist in Association with the BBC Singers.
Now performing organ concertos with leading orchestras and multiple recitals each season across Europe, Anna released her debut solo album 'Images' on Signum Records in 2021. The recording includes her transcription for organ of Britten's 'Four Sea Interludes' from "Peter Grimes", now published by Boosey & Hawkes. A new anthology of organ pieces by female composers 'Gregoriana', commissioned and edited by Anna, was published in 2022 by Stainer & Bell.
Making her TV presenting debut hosting coverage of BBC Young Musician, Anna was also invited to present a televised BBC Prom from the Royal Albert Hall in 2021. As a radio broadcaster she is a regular contributor to BBC Radio 3 and Radio 4, and until July 2020 she hosted a live, weekly classical music show on Radio Cambridgeshire. Anna has also been featured on Classic FM and presented for Scala Radio.
Anna's passion for the organ is matched by her mission to support girls and women in music. Her commitment to opportunity, equality and diversity is evident in almost every aspect of her life and work, especially in programming. Anna is humbled to find that she is an inspiration to many young women and proud that they have adopted her hashtag, #playlikeagirl.
Tickets are now on sale from www.dundeebox.co.uk