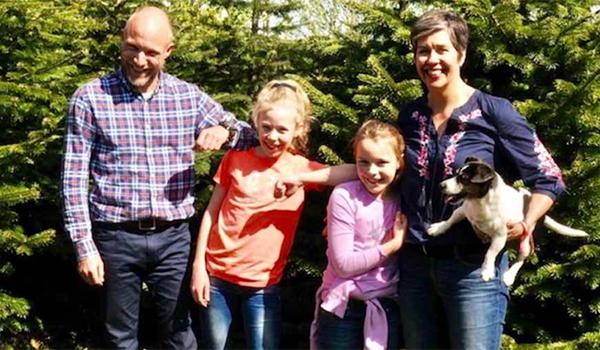 If you are looking for yet another reason to get in the festive spirit, then look no further than Nissen Christmas Trees who are kindly sponsoring Leisure & Culture Dundee's Santa Dash. With just one week to go before online sign-ups to the event close on December 1, we caught up with Amanda Nissen from the sponsors to find out why they got involved with this year's charity event which this year is raising money for Maggie's – Everyone's Home of Cancer Care.
Amanda said
"We heard about the Santa Dash through Maggie's as I help a wee bit there with the fundraising committee. Santa Dash needed a sponsor and I just thought that this was something we could do and sounded like such a great event.
"I think Maggie's is a very special place and we are so lucky to have one here in Dundee. Both my parents have passed away with cancer and they were so lucky to be treated at Ninewells. They got such great care and that's when I discovered Maggie's. I had wee kids when my mother was ill, and I found myself trying to be strong for my mum and dad, help him out and also pretend to the kids that mum was fine and keep ongoing. But inside I was screaming."

"Someone must have mentioned about Maggie's and I went in for a look and that's when I learned all the great help they have on offer. I found great help in chatting to people and being in a place where everyone was experiencing cancer in some way. I got some help from the amazing counselling service they offer. That really helped me be there for my mum and park my feelings in a safe place. Since then, I have been in and out many times for information as my father then got diagnosed and passed away and one of my sisters also got a breast cancer diagnosis. It has helped me so much and the people there are just amazing. It's a super resource for anyone experiencing cancer and the way it touches all our lives. I highly recommend a visit."

"I am super excited to see so many Santas running about Dundee. I can't think of a more cheery and festive sight! I am using it as my start to Christmas and my kids are signing up with their friends. I am sure afterwards we will be coming home, decorating our tree, and singing Christmas songs! We can't wait and so hope that heaps of people sign up so that we can raise as much as possible for Maggies! We are so happy to help in any way we can!"
Santa Dash is coming back to our streets on Sunday 5 December 2021.
To sign up to this year's event visit https://santadash21.eventbrite.co.uk
About Nissen Christmas Trees
Nissen grow and sell Christmas trees, and ship them across the UK to wholesalers and to retailers like garden centres. They are a hands-on family meaning they all help out in the trees. Amanda and her husband Anders run the business, with him doing most of the tree work and Amanda in the office. They also get help from Anders parents who are in their 70s and a great source of expertise, and a super employee Edgars who does a great job. They also employ some people seasonally to help out when they need extra hands-on deck, like now during harvest!