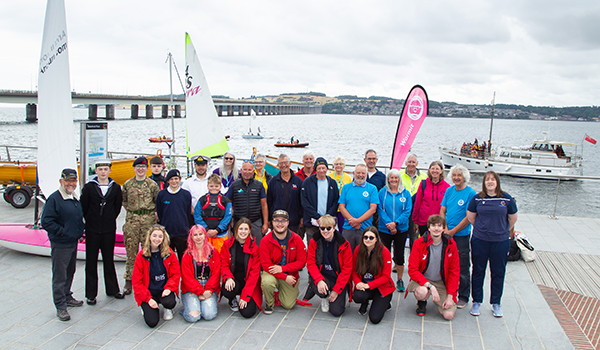 A new Tay Estuary Water Sports Hub has been launched in Dundee. Many organisations in the area will work together to promote water safety and develop water sports on the river. The Hub will also provide support in providing the public with information to minimise the number of incidents on the water.
The River Tay already provides a wide range of water sports and activities leading to the creation of the Tay Estuary Watersports Hub. The Hub is a collective organisation open to all water sports bodies that use the Tay Estuary.
The area covered by the Hub on the Tay runs from Balmerino in the west to Buddon Ness and the Lady Buoys that mark the buoyed channel at the entrance to the estuary.
The Hub includes organisations that support canoeing and kayaking, rowing, paddle-boarding, personal watercraft, power boating and water-skiing, sailing, swimming, wind-surfing and kite-surfing. They will encourage individuals of all ages to come and try water sports in a safe and controlled environment.
The Hub has advisory links with Dundee Harbour (Forth Ports), the RNLI, Leisure & Culture Dundee, Dundee City Council, the Coastguard and sportscotland.
The Tay Estuary Water Sports Hub is part of sportscotland's community sport hubs programme, and with National Lottery-funded support helps bring clubs and local organisations together to grow the sporting offering in their communities.
Stewart Murdoch, Chair of the Tay Estuary Watersports Hub, said
"The establishment of a Watersports hub for the Tay estuary marks the first time that all the organisations which use the estuary have come together as one collaborative organisation. It has great potential for strengthening cooperation, the promotion of best practice and widening access."
Alison MacKenzie, Community Sport Hub Officer, Leisure & Culture Dundee, said
"The creation of the Tay Estuary Watersports hub has been developed on the back of a strong desire from water sports organisations using the Tay Estuary to work in collaboration with a focus on improving water safety and the development of activities on the water. This is the first water sports hub in Dundee and is a very exciting development for the city. I look forward to seeing the benefits for the whole community from this collaboration."
Stewart Harris, Chief Executive for sportscotland, said
"The launch of the Tay Estuary Water Sports Hub is a great development for the future of water sports in Scotland and will no doubt improve and increase the opportunities for those in the Dundee area and beyond, to participate in water sports and activities. This collaboration between organisations across the Tay, is a great example of how collective efforts can maximise resources and enable participation for all."
For further information on the Tay Estuary Water Sports Hub visit http://www.leisureandculturedundee.com/tay-estuary-water-sports-hub
Members of the Hub are:
Broughty Ferry Boating
Dundee Sailing Club
Dundee Sea Cadets
Dundee University Sailing Club
Royal Tay Yacht Club
Tay Corinthian Boating Club
Tay Sail Training
Tayside Sea Kayak Club
Taymara
YeAABA (Ye Amphibious Ancients Bathing Association)
Valhalla Escapes
Wormit Boating Club and Watersports Hub