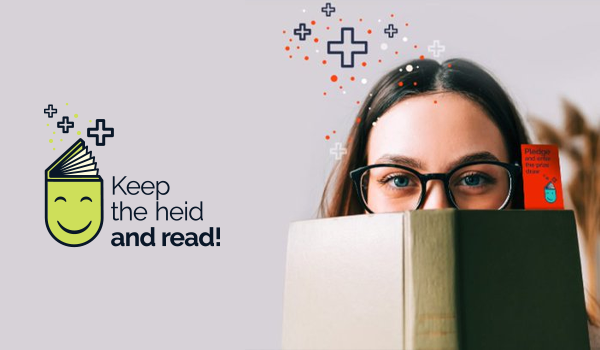 Dundee Libraries are celebrating Scotland's Reading Moment on Wednesday 11th May.
Research has proven that reading for just 6 minutes a day boosts your mental health by 68%.
To celebrate the power of reading, libraries and good mental health, people of all ages from across Scotland are being asked to pledge 6 minutes on Wednesday 11th May and devote it to reading.
To make your pledge and enter a prize draw to win one of 5 £100 book tokens visit www.keeptheheid.scot
Keep The Heid Photo Competition at Dundee Libraries
How will you celebrate your Reading Moment on the 11 May?
Let us know by emailing a photo taken on the day to central.library@leisureandculturedundee.com
Pictures can be of people, place, books or any of the above – use your imagination to capture the spirit of the day!
Entries should be emailed to central.library@leisureandculturedundee.com and must be received by 5.00pm on Wednesday 18th May 2022.
Our panel of judges will select the 3 best entries and the winners will be invited along to their local library to receive their prize.
1st prize £50 book token
2nd prize £30 book token
3rd prize £20 book token
We look forward to receiving your entry.
---
Terms and Conditions
By emailing a photo the sender confirms a) that it is their own work and b) that SLIC and/or the library service can publish your photo and name on the Reading Moment website if you're entry makes it into a library service winner.
SLIC and Library Services cannot be responsible for any entry that is not received.
Entries can be submitted from 11th May and closing date is 5.00pm on 18th May 2022. Winners will be emailed as soon as the library service is able and announced on the Reading Moment website once all winners notified.
Only one entry per person is permitted
Entries may be received from children however they must be submitted through a responsible adults email account.
For those without access to email, library staff can assist with making a submission
Winners will be expected to attend a small handover event to receive their book token
The Judges decision will be final