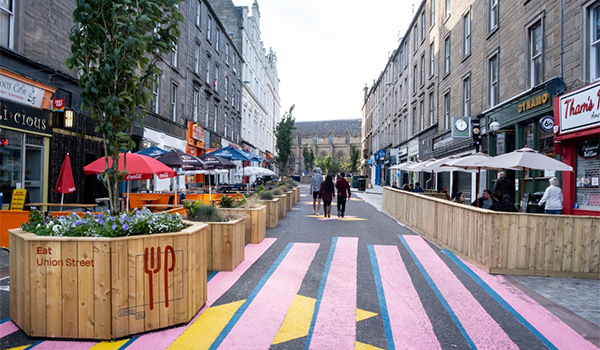 Scotland is the first country in the world to bring together all its UNESCO place-based designations (World Heritage, Global Geoparks, Biospheres and Creative Cities) in one digital trail, created by a partnership between VisitScotland and UNESCO. And Dundee has taken pride of place!
It's a huge accomplishment to not only have one but a whole bunch of destinations. UNESCO aims to recognize the cultural, scientific and historical importance of these locations by preserving and educating people about communities that live there, the environment and the events that shaped them into what they are today.
The trail includes six World Heritage Sites, three Creative Cities: Dundee, Edinburgh, and Glasgow, two Biosphere Reserves, and two Global Geoparks. It's safe to say there is something for every taste – nature lovers, city wanderers or history buffs.
Dundee
Dundee was given its Creative City title in 2014 and is the UK's first-ever UNESCO city of design. It was once known for its textile and shipbuilding industries. However, it has become a cutting-edge design hub in fields as diverse as medical research, fashion, gaming, tech space, and more.
Our city is a true gift to the world since it's given the world some life-changing products such as aspirin and orange marmalade, as well as the Grand Theft Auto franchise. It has produced some iconic comic characters, including Oor Wullie, Dennis the Menace and Desperate Dan.
What else should you visit?
You can find The Antonine Wall, built by the Roman military. It's known as the Roman Empire's northernmost frontier. This ambitious engineering project was once lined by 17 forts and patrolled by 7,000 soldiers hailing from all corners of the empire. You can stroll around the breathtaking landscapes while travelling through time and imagining what it would be like to live during that time.
If you fancy some fresh air, you should head up north to the Wester Ross Biosphere, which has one of the most spellbinding landscapes in the world. Formed by some of the oldest geology in the world, this location offers the most idyllic beaches, enchanting lochs, centuries-old pinewoods and some of the highest mountains in the UK. You can truly escape the hustle and bustle of your everyday life here, as this site is exceptionally remote – only 8,000 people live in the 5,000 km area.
Ready to explore more of the UNESCO Trail? Head over to the VisitScotland site.