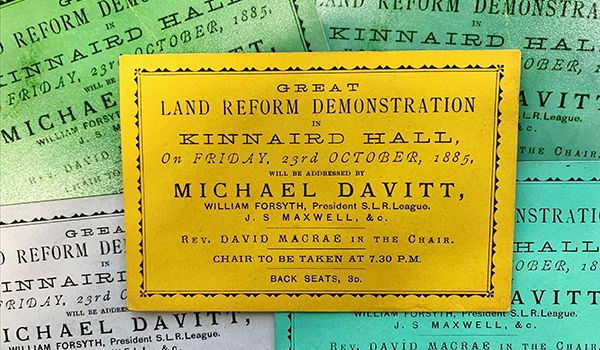 Talk by Niamh Coffey, at 12 noon and 3pm in Lochee Library, Saturday 19 March
Lochee, or 'Little Tipperary' as it has been fondly called, has a rich and vibrant history. This wee town in the North East of Scotland was famous for its booming jute trade, the employees of which were overwhelmingly young, Irish women.
These women left their mark on both Dundonian and Irish history. Despite having to endure gruelling working hours in the dusty, dank jute mills, they organised themselves into a variety of political and national movements to ensure that their friends and families over the Irish Sea could live a better life.
However, many historians have glossed over these women's efforts, and as a result, very little is known about them, even in Dundee. For example, did you know that Lochee women were the highest fund raisers for evicted tenants in Ireland throughout the whole of Britain? Or that two women from Brook Street housed Eamon De Valera, the future Irish President, after he escaped from prison? And that Irish women had a big role in voting out Churchill from office…
This is a free, drop-in event.
Visit Lochee Library during the week for -
A special Irish folklore themed children's storytime with Audrie Taylor, at 4pm on Monday 14 March
A display on Irish communities in Lochee and Dundee, from Monday 14 March
The chance to explore the online resources available for finding your Irish ancestors (and more family history) in Dundee Libraries