Welcome to Mills Observatory
Britain's first purpose-built public observatory enjoys a magnificent woodland setting on the summit of Balgay Hill. Watch stars and planets through our telescopes, or admire the scenery with some spectacular treetop vistas across 'the silvery Tay'.
With fascinating space exploration and astronomical displays, planetarium shows and a fully computerised telescope that can detect 30,000 objects in the sky, there's so much to see, do and learn! Our friendly staff are on hand to help and advise.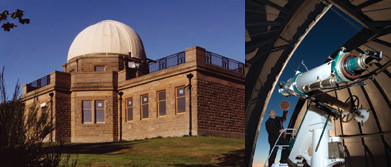 Admission Free
Please Note - a small charge will be made for booked group visits and public Planetarium shows.
Opening Times
April to September
Open on selected dates for varied public programme - see programme and opening hours here
October to March
Monday to Friday 4pm - 10pm
Saturday and Sunday 12.30pm - 4pm
Mills Observatory is owned by Dundee City Council and operated by Leisure & Culture Dundee.