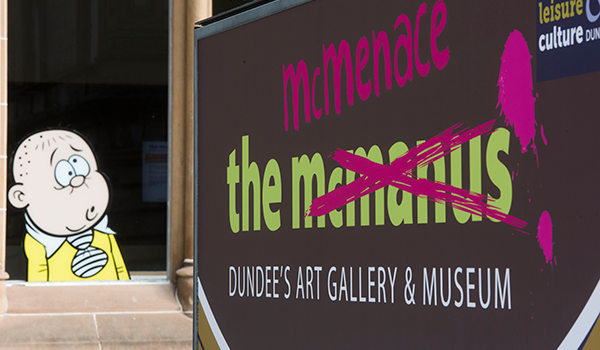 The McManus: Dundee's Art Gallery & Museum has been shortlisted for a prestigious PR Award after renaming the museum 'The McMenace' for the collaborative Bash Street's Back exhibition with Beano. They have been announced as contenders for 'Stunt of the Year' in the PR Moment Awards which celebrate excellence and recognise and reward outstanding campaigns and exceptional talent in the UK PR and Communications sector.
The publicity stunt took place in Summer 2018 to promote a bespoke partnership exhibition dedicated to the 80 years of the much loved Beano comic. All signage, website and social profiles were adapted to reflect the name change. Beano Studios also created an original comic strip starring The Bash Street Kids designing the new sign for The McMenace.
Bash Street's Back at The McMenace went on to become the most popular comics exhibition of all time in the UK with 105,769 visitors. This almost doubled the previous highest total of 54K who visited Comics Unmasked at the British Library in 2014. It has also become the most popular temporary exhibition ever held at The McManus. Visits exceeded visitor numbers for previous shows including notable exhibitions at The McManus including Ten Drawings by Leonardo da Vinci, Titian's Diana and Actaeon and Roman Empire: Power and People.
Sinclair Aitken, Chair Leisure & Culture Dundee said
"This was a fun and memorable publicity stunt that provided a springboard for Bash Street's Back at The McMenace to become the most popular comics exhibition of all time in the UK. We stayed true to Beano's spirit of rebellion and reputation as mischief makers and challenged perceptions about museums to achieve record visitor numbers. The McManus is already recognised for its nationally significant collections and we succeeded in further developing a national audience for those collections."
Mike Stirling, Head of Beano Studios Scotland said
"It's brilliant to see McMenace, I mean McManus, receive recognition for what was a bold and brilliant way to emphasise just how far the museum was prepared to go to make art imitate life. It was a jaw-dropping genius move, bringing Beano comic to life, in its home city. Every piece of signage, including the digital footprint was changed to reflect the stunt. That's the power of a museum thinking kid and reaching new audiences."
The winner will be announced on Wednesday 13 March, 2019 at an event in Manchester's Hilton Hotel.
Date: 13 February 2019