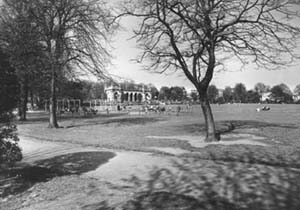 Baxter Park, named after the donor, the late Sir David Baxter of Kilmaron, Bart., contains about 37 acres, chiefly laid out as ornamental garden ground, but with ample spaces of green sward. It was acquired by Sir David and placed in excellent order before it was presented by him to Dundee in 1863.
It was opened by the late Earl Russell (1792–1878) amid great rejoicings, a general holiday having been observed on this occasion. The Baxter Park was endowed by the donor and placed under the charge of Trustees; but in 1903, when it was found that the investments could no longer maintain the Park, it was handed over to the Town Council, so that any deficiency might be supplemented from the city rates.
It is now, like similar donations, administered by the Parks and Cemeteries Committee of the Town Council. Sir David Baxter (1793–1872) was one of the founders of the firm of Baxter Brothers & Co.
Source: – Glimpses of Old and New Dundee' – A.H. Millar, January 1925