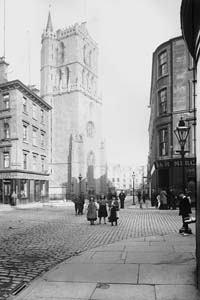 Reputed to be named after Arygllis lodging, home of a Campbell of Argyll. On its north west front woodenlands constructed by possibly late 15th century on town side of Overgait 'barass'. On south side, just outside barass, home of the Boece family, 16th century, and probably birthplace of Hector Boece.
Country gentry abandoned traditional 'lodgings' in Overgait and from mid 16th century spinners and weavers subdividing property and workshops in backyards supplied with water from Scourinburn.
The south east end of the street was referred to as the 'luckenboothe', being lined with locked booths at the front of tenement buildings. 'Overgait' is the upper gait, above 'Nethergait' the lower.
Overgate formed one of the two thoroughfares providing access to the town from west. From Long Wynd junction it skirted foot of Corbie Hill on north passed St. Mary's Church on south and emerged on High Street at the Cross. In 1746 Overgate reputedly possessed a few houses. Lay without early medieval town, but sufficiently developed by 16th century to be enclosed by town wall and barass; frontages well developed by 1776 with limited backlands repletion. South frontage by St. Mary's built over erstwhile kirkyard.
Relatively unchanged 1793 though town expanding west and Corbie Hill quarried south side of Overgate, street narrowed between High Street and Thorter Row by projection of luckenboothe. North Lindsay Street inserted 1821 over levelled Corbie Hill (Windmill Brae). Luckenboothe cleared by 1858 and site rebuilt. 1960s street cleared to make way for Overgate redevelopment.
Source: 'Historic Dundee – The Archaeological Implications of Development', Scottish Burgh Survey 1988