Book It, Use It, Learn It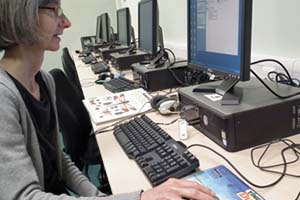 Take advantage of the free computer and Internet access facilities to improve your skills with the help of library staff ... available in all libraries.
What facilities are available?
Wi-fi Service available - read more
Search for information
Send and receive an email
Create your CV
Access to a variety of software packages
Computer taster sessions
Scanners
Can I book?
Booking is advisable either in person or by telephone from any library/learning centre citywide. Computers can be booked in ½ hour sessions for a maximum of 2 hours.
Charges
For information on our charges, visit the 'fees and charges' section.
Printing from Public Access PCs
All black on white prints 25 pence per sheet. No free copies.
All colour prints 40 pence per sheet. No free copies.
What if I need help?
Staff are available to provide individual taster sessions for up to one hour for basic PC and Internet skills. These can be booked at all libraries.
User Guides
Opening Hours
For details of all library opening hours, visit the 'opening hours' section.