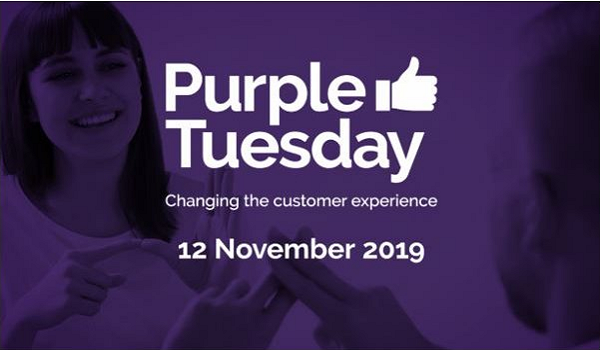 Leisure & Culture Dundee has announced it will participate in Purple Tuesday 2019, taking place on 12 November, 2019. Purple Tuesday promotes the £2.25 trillion global spending power of disabled people and their families and calls on all organisations to make changes to improve the customer experience for disabled people.
Purple Tuesday has been developed by disability organisation Purple; which works with businesses to improve the customer experience for disabled people.
Leisure and Sport facilities will complete a Site Accessibility Assessment to ensure the best experiences for our customers by creating safe, healthy and secure destinations where everyone is valued, and diversity and equality is respected. This assessment will identify areas for improvement, both locally at each facility and corporately across the Leisure and Sport portfolio in the form of required training and facility improvements.
Dundee Ice Arena staff have completed training in Makaton, the unique language programme that uses symbols, signs and speech to enable people to communicate. It supports the development of essential communication skills such as attention and listening, comprehension, memory, recall and organisation of language and expression. The role out of this training will be offered to all Leisure and Sport facilities to help better support customers with language difficulties to access activities.
A Disability Athletics Session will also take place at the Regional Performance Centre as part of a Disability Athletics term time class. Participants will be coming from Kingspark and St John's High School.
Last year, the first ever Purple Tuesday was a huge success - with over 1,500 pledges to make concrete changes and improve the customer experience for disabled people. This included commitments such as: staff training, digital audits, better signage and training of frontline staff in basic British sign language. Purple Tuesday gathered support from over 750 businesses.
Comment from Mike Adams, Purple CEO said
"I am delighted Leisure & Culture Dundee is involved in Purple Tuesday. It underlines their public commitment to improve the customer experience for disabled people."

"Meeting the needs of disabled customers makes commercial sense for businesses and I am hopeful others will follow Leisure & Culture Dundee's lead. Together we can commit to change the customer experience for disabled people for good."
John McCafferty, Business Improvement Manager at Leisure & Culture Dundee said
"We are really pleased to be taking part in Purple Tuesday this year. We are an organisation who are open to cost effective changes to improve accessibility to all demographics and welcome feedback on in demand activities and facility improvements."
For more information on Purple Tuesday visit the website – www.purpletuesday.org.uk.