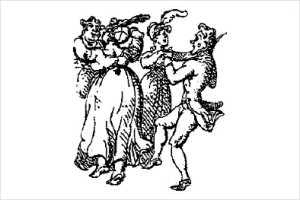 b. Norwich, 1623 d. London, 1686
Music publisher and bookseller, clerk to the Temple Church and Vicar-Choral of St Paul's Cathedral. In 1639 he was apprenticed for seven years to John Benson, a London publisher, and in 1647 became a member of the Yeomanry of the Stationers' Company.
As a Royalist, Playford began publishing political tracts, culminating in "The Perfect Narrative of the Tryal of the King". This was an age when music publishing was part of the more general field of book publishing, a situation changing by the time of his son Henry.
On 7th November 1650 he entered in the stationers' registers "The English Dancing Master or Plaine and Easie Rules for the Dancing of Country Dances', which was published in 1651. It is generally thought that this was his first musical publication but "A Musical Banquet" bears the mark of John Benson as well as his own and so there is some speculation that it may have been earlier. "The English Dancing Master", with enlarged editions, continued until 1728, each 'new edition' often differing little from its predecessor, although new lessons may have been added and some taken away.
The Wighton Collection contains editions published between 1675 (5th ed.) and 1721 (17th ed.), as well as copies of the second and third volumes of "The Dancing Master".
In the Wighton Collection there is also a first edition of "Apollo's Banquet". The entry in the Wighton Database reads:
1st edn Wants title page (p. 1) which has been substituted in MS by text from an advertisement in Playford's "Musick's Hand-Maid", pp. 2–4 in MS. The airs are numbered 1 to 222, with the following irregularities: nos. 168 & 185 are each used twice for 2 different airs; nos 5, 6, 32, 49, 130, 163 & 221 are omitted. Nos. 205 & 219 are the same air under the same name. Nos. 31 & 44 are the same air under different names, as are 99 & 106, 72 & 119, 23 & 57. Nos. 176 & 200 are variant sets of the same air. The 84 pages of music are unnumbered.
Microfiche available.
John Playford published hymns and psalms and we have records of his personal feelings and ideals in introductions to his works.
An enormously important figure in the development of English music publication and a source of inspiration for Cecil Sharp's English folk revival.
There is no exact record of Playford's burial but it is of interest that Purcell wrote the "Elegy on my friend, Mr John Playford".