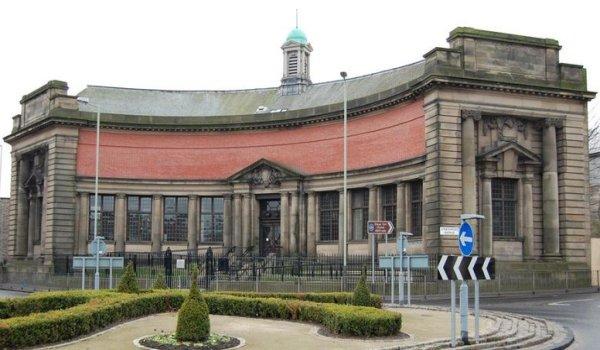 The historic Coldside Community Library has re-opened after an upgrade of £700,000. Improvements made over the last six months include a new passenger lift, accessible toilets, hospitality facilities and new interior decoration. The work, funded by Dundee City Council, also incorporates new lighting throughout, a new meeting room, library counter, flooring, refurbishment of windows and painted railings outside.
Coldside Library is one of five Carnegie libraries commissioned in 1901 for the City of Dundee. The library was designed in 1906 by city architect James Thomson as one of the first two projects undertaken after his appointment to the post in 1904. Coldside library is one of the first free libraries in Dundee and has continues to operate as a community library, 100 years after the death of benefactor, Andrew Carnegie.
Andrew Carnegie offered £37000 to Dundee to establish 4 branch libraries and a Central Reading Room on two conditions. Firstly the sites should be provided by the city and secondly, the penny library rate (as a result of the Public Libraries Act) should be raised to twopence. Sites were provided by generous citizens, ground for Coldside coming from Ex Lord Provost Barrie. The cost of building Coldside Library was £7610.
Arthurstone Library was opened first in 1905 and because it was so successful, work went ahead on Blackness and Coldside, both opening on the same day 22nd October 1908. Blackness in the morning, Coldside in the afternoon. Coldside was opened by Dr Hew Morrison of Edinburgh. Coldside was built at the junction of Strathmartine Road supplying the north western district and the new suburb of Downfield, now within the city boundary. Designed by the City Architect James Thomson in the Italian Renaissance style of free stone with red brick enrichment.
Coldside Library was also home to the Dundee BBC. Radio Recording Studio from 1949 until 1978. The studio, set up in the former Ladies' Reading Room, hosted a wide range of producers, speakers and dance bands over the years. Programmes recorded from Coldside included a Children's Hour, featuring stories, songs and verse - sometimes contributed by library staff!
Sinclair Aitken, Chair of Leisure & Culture Dundee said
"The refurbishment at Coldside Library will greatly improve access in the building for everyone in the community and now gives us the potential to run more events. We would like to thank our customers for their patience while the work was being carried out and can't wait to welcome everyone to the newly improved building."
Alan Ross, Convener of Dundee City Council's City Development Committee said
"I am pleased to see one of Dundee's most historic libraries open after a significant upgrade. The improvement works have ensured that this iconic library is fit for the 21st Century."
Join Dundee Libraries here