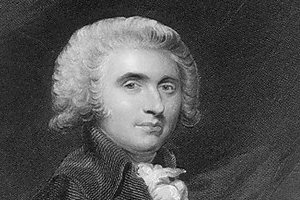 Thomas Alexander Erskine, 6th Earl of Kelly: b.1732, d.1781
Born at Kellie Castle, Fife, his schooling was interrupted by the 1745 rebellion, his family being of Jacobite persuasion. His first involvement with orchestral music appears to have been when he joined the Edinburgh Musical Society at the age of 17. Like young gentlemen of his age he embarked on the Grand Tour and studied composition and violin with Stamitz.
On returning to Edinburgh in 1756, he spent the rest of his life there, a dilletante, neither pursuing a career nor marrying. As Deputy Governor of the Edinburgh Musical Society, he was able to play an important part in the society during its most successful period.
Kelly composed overtures which received widespread acclaim and performance and, most importantly, he was asked to write minuets for one of the most splendid events of the century, Lord Stanley's Fête Champetre, at The Oaks near Epsom, in 1774. He also belonged to "The Temple of Apollo", a secret society of composers in London.
Although many of Kelly's compositions have been lost, we still have overtures, most of them technically weak, but they gained him a success which lasted his lifetime. The overtures, "The Maid of the Mill" and "The Periodical Overture No.17 (1767)" are of greater complexity and merit.
In 1769 Kelly published six trio sonatas and in 1765 a set of six symphonies was published as being by "J. Stamitz, his pupil the Earl of Kelly, and others". He continued to compose during the 1770s but none of this work is extant.
Weaknesses of composition, in some critics' eyes, do not detract from Kelly's importance in Scottish music. Burney wrote that "there was no part of theoretical or practical music, in which he was not equally versed with the greatest professors of his time".