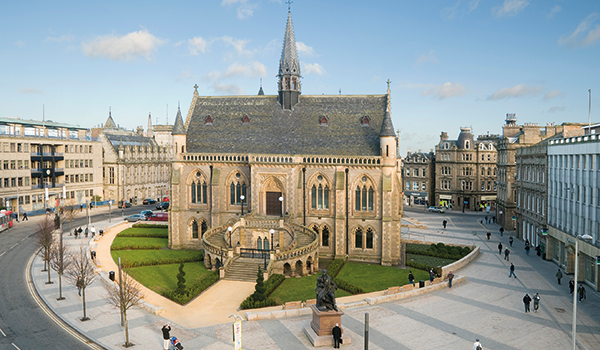 We've been experiencing the effects of COVID-19 on daily life in Dundee for around two months now, and have been in lockdown for over a month of this. The current situation is a global one, but we know people in the future will be curious about how people in Dundee responded, and what life was like in the city during this time. We put together a survey which asked a range of questions about daily life, keeping in touch, hobbies and entertainment, and people's hopes and fears for the future. Everyone has seen some changes to their life: key workers in health care and food retail have been working longer and busier hours, while many others are experiencing working from home for the first time, or have been left without work at all. This is not a comprehensive or scientific survey – for one thing, it is only available to people who currently have internet access – but it is a window into how some of Dundee's people are experiencing the lockdown as it happens.
Here are some of the questions we asked, and a sample of responses so far.
When did you first notice the pandemic affecting your daily life?
The first confirmed case of COVID-19 in Scotland was in Tayside, on the second of March this year. In the weeks following this people started adapting how they behaved at work or at home, and seeing changes in how other people behaved. For some, there was a gradual increase as social distancing became more serious, but for others changes were more sudden:
"First measures were avoiding hand shaking and hugs etc. We substituted this for 'foot tapping' etc and it all seemed a bit of fun until the realisation of not hugging family etc kicked in."

"Sporting games were cancelled - as a family we would watch Dundee Stars at Dundee Ice Arena every weekend, 15th March was the first game to be cancelled due to Covid-19."

"When work was starting to get quieter […], no one knowing what was going on or what was going to happen."

"I was on holiday and my office rang me and said that I should stay away from the office until further notice as they were running on a 'skeleton' staff."

"When social distancing/shielding was introduced and my parents were told they couldn't leave their homes for 12 weeks. It was incredibly difficult knowing I wouldn't be able to see them or give them a hug for such a long time."
What does a typical day for you look like during lockdown?
The current situation has transformed daily experiences for almost everyone in the city. Key workers in the NHS, care, and essential retail have seen a huge increase in pressure at work, as some of our responses from Dundee's NHS staff demonstrate:
"Stressful."

"Long work shifts, home, eat and repeat."

"At work facing varying challenges like lack of PPE, worry for family members who are high risk and how we as medical professionals will cope with the devastation we are about to be faced with […] It's not just a job now, we feel like soldiers about to go over the front line. The government and media are showing so much support and gratitude but before this started they showed support by capping our wages."
Meanwhile, for Dundonians staying at home, whether working or not, trying to settle into a routine has been an important part of getting used to the situation. Several of our respondents who are working from home mentioned making the most of not having to spend time on commuting with extra time for hobbies or family.
"I am working from home so my day is getting up on my alarm, coming downstairs and switching on laptop and having breakfast and starting work. Take a break about 11am and again about 2pm. Some days I go out for an hour's walk with my partner and other days just get out into garden for fresh air."

"No longer getting to sit exams and as I am an S6 leaver, time at school is cut short. Having to finish coursework from my house and email teachers. Me and my older sister are helping to home school my younger sister."

"Checking in with my pupils on Google Classroom (P2/3), helping my daughter (P7) with her work, mainly algebra which I haven't done for a while (!) Had to get used to remote/online teaching very quickly and am really missing my class!"
What do you miss most? Have you found any hidden benefits?
From our responses, it's clear that friends and family are what people miss the most. When people did notice hidden benefits from lockdown, these were usually to do with having more time to spend with family, or having reconnected digitally with old friends. This time has been particularly hard for people living alone, and people who are worried about at-risk family and friends. The sense of freedom that comes from knowing you can choose where and how long to go out for every day is also something that many people said they were looking forward to regaining:
"Feeling very isolated and frightened watching the news… Being thankful by the end of each day that I am virus free!"

"I. Miss. Hugs. I'm surprised to find I'm enjoying learning at online events!"

"I hate the streets looking like a ghost town. I do love spending time with my kids and husband and getting the wee jobs done".

"I feel an increased responsibility for keeping my family safe and a huge sense of loss of control."

"Learned more software skills and how to communicate better online... In some cases communication has improved as people sit in work with headphones in."
How are you keeping in touch with friends and family?
Many of us have discovered a new technology or two since lockdown, with video calling platforms being popular for both work and social meetings, but we have also seen plenty of responses from people rediscovering traditional ways of keeping in touch. In many places, local communities have grown closer, rather than more distant:
"My 89 year old father has just discovered the joys of FaceTime."

"We have set up a street WhatsApp group and I know far more of my neighbours than previously which I hope will continue."

"We share a back green with our neighbours so we've been chatting at a safe distance too. Posting notes through each other's doors as well."

"Letters, postcards, telephone, e-mail, text, standing at their window shouting in at them."

"My community is close but widespread. We have set up a helpline and I am a volunteer, I phone the very elderly to see that they are ok."
Has the lockdown changed what you eat or how you plan and prepare meals?
Food is one of the things we all have in common, and most of us have seen some changes to how we eat, either due to the closure of many cafes and takeaways or the increased demand on supermarkets. Access to food, either because of scarcity, cost, or being unable to get to the shops, has become more of an issue than ever for some of us in the city. A few people, already in the habit of planning meals ahead of time, reported very few changes to their eating habits at the moment. However, many people have adapted one way or another:
"We need to make full use of everything, nothing is thrown away any more – so good for the environment."

"We're buying cheaper food to make the money we have go further."

"I try to have two weeks food in the house in case we have to self-isolate at some point."

"Not having to have quick teas now as we're not running off to clubs at night."

"We no longer have a meal plan, we eat whatever has been available on the shelf in the supermarket which hasn't been a great selection."

"We have had less take away meals - we would have 1 - 2 take away meals and I would shop at the deli for lunch at work. I have more time to prep and plan meals."
How do you think this will affect your community in the future?
One of the hardest aspects of the experiences we're having has been the uncertainty. None of us know how long we will be in this situation for, and many of us are concerned about the future of our work and economic stability, or our own and our children's education. Our respondents raised a range of specific and general concerns, including the following:
"I think it may be more difficult for me to get a mortgage in the future."

"Young people won't be used to a school or work routine. Kids will be troublesome to get to go to school. They won't be able to swim; play team games etc."

"I think people will continue to be wary of contact for quite a long time."
Looking to the long-term, though, we are hopeful and fearful in roughly equal measures. Many people raised this as an important point to re-evaluate what is really important in the way we think about the city and its economy:
"Hopefully people will be more appreciative of our so called low skilled workers."

"I expect more families to be struggling to cope financially but hopefully with support be able to come out the other side of this."

"I think things will likely go back the way they were. Feeling sceptical that the positives from this will remain. I don't think that people in my community are being particularly tolerant or kind to one another."

"I hope that people develop more of an awareness of their local green spaces and a better appreciation for their local environment in general."

"I think if we reflect on the lessons of this experience, and allow change, our community can grow in terms of empathy and understanding what is truly important in life.
Thank you to everyone who has shared their experiences and thoughts so far. The survey is still open to responses at https://forms.gle/NNujgVeCqnnzi5RC9 or via http://www.leisureandculturedundee.com/coronavirus/resources.
If you are in Dundee and need support, a list of services and helplines is available at: https://www.dundeecity.gov.uk/coronavirus-covid-19.