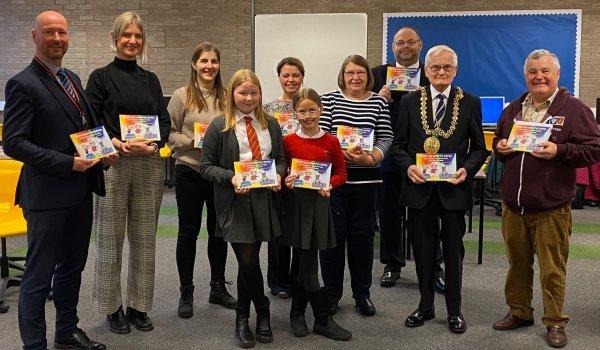 Dundee Schools and Libraries have been presented with a book of children's work with stories and illustrations by Dundee Würzburg Twinning Association (DWTA). Pupils from Eastern Primary School were presented with the books to celebrate the 50th anniversary of Kinderparadies St Lioba Nursery. The Würzburg nursery children produced the book and translated it into English for Dundee children, adding a page about the Scotland. Dundee Würzburg Twinning Association member Lynn Nothegger in Germany arranged distribution. Copies will go to all Nursery and Primary schools and libraries.
George Laidlaw, DWTA presenting the books on behalf of Würzburg said
"We have kept in touch with our friends in Germany through a Zoom link every Wednesday during the pandemic. One of our German members, Lynn Nothegger, was invited to assist in the distribution of the books and to build links with young people in Dundee. We were delighted to agree. Especially as many of our members have links with friends they have met in Germany. We will assist in the production of an illustrated book to return to Würz-burg."
Stewart Hunter, convener of Dundee City Council Children and Families Service said
"I am delighted that DWTA have kept our twinning links open and that Dundee youngsters will be assisted in this project to develop German language learning. It meets the aims of Dundee City Council; DWTA Twinning Partnership and a Curriculum for Excellence. The young people will gain first hand information on Würzburg; Twinning; Traditions; and Local Festivals."
Audrey May, Head of Service (Chief Education Officer), Children and Families Service, added
"We are happy to support this partnership to produce German language work-sheets to support schools. The young people will benefit from direct links with schools in Würzburg and build friendships."
The original books were produced in German and translated for Würzburg sister cities. It aligns with the new model for learning and teaching of languages within Scottish schools.
In association with Virginie Bradbury, Education Support Officer, Dundee & Tayside and Lucie Mautetit, Staff Tutor DWTA will assist in the production worksheets with German and English translations for use by primary children. This will help support the delivery of 1+2 Languages with German and English versions of the book available for classes to work with. The partnership with Ferry Ward schools as DWTA will promote German language and links. Other schools in Dundee will also be involved in the development of a Dundee book for Würzburg children.
Elaine Halyburton, Service Manager - Children's Library and Information Services said "We are delighted to accept the books in our libraries for our reader and to explore links with Würzburg."
DWTA make friends and connections between the twin cities of Dundee and Würzburg. Information, photos and fun facts about Scotland and Germany can be found on DWTA Facebook page. https://www.facebook.com/dundeewuerzburg/