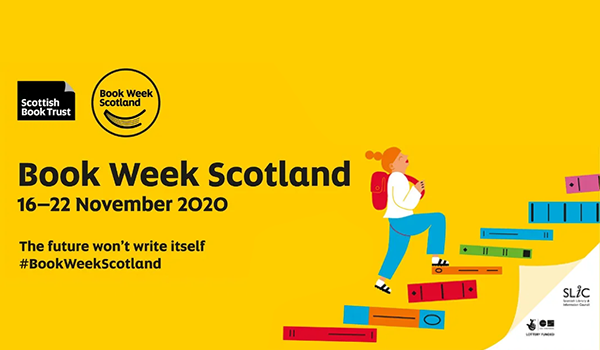 Monday 16 November - Sunday 22 November
Dundee Libraries are ready to celebrate Book Week Scotland's 2020 programme from Monday, which this year focuses on the theme of Future. Scottish Book Trust, the national charity changing lives through reading and writing, has worked closely with partners to ensure the celebration will go ahead this year in a digital format due to the current pandemic.
Book Week Scotland is the country's biggest celebration of reading and writing and it returns for its ninth year from Monday 16 November to Sunday 22 November. Although there will be no face-to-face events this year, the Digital Festival has a number of events in Dundee that book lovers can enjoy.
Every day next week Dundee Libraries will be sharing a short film from authors and illustrators from 9am on their social media channels. Taking part are authors Michelle Sloan, Gill Arbuthnott, Dave Cousins, illustrator Tom Foster and writer and poet Jenny Lindsay.
From Monday, the Children's Centre will be encouraging participants to Jump into the Future and make and fill in their own time capsule. Staff will present ideas during a design session on Dundee Libraries Facebook page and a limited number of free craft kits and boxes to create a time capsule will be available for collection from the Central Library anytime during the week.
On Saturday, No Trees to Whisper – The Music of Poetry will take place. The poetry workshop will be led by Dawn Wood, with musicians Frances Cooper and Joanna Nicholson of the duo Turning the Elements. This will be an opportunity to be part of a collaborative writing event and to hear about the creative processes behind 'No Trees to Whisper', a new song cycle commissioned by soprano and clarinet duo, Turning the Elements – all from the comfort of your own home, via Zoom.
Free copies of the Future book, which includes real life stories from people around the country, will be available from libraries across the city during Book Week Scotland. A selection of 30 stories are featured in the book, which also includes work from author Abir Mukherjee of A Rising Man and poets Romalyn Ante of Antiemetic for Homesickness and Dean Atta of Black Flamingo.
To find out more and book events in Dundee and across the country visit www.scottishbooktrust.com/book-week-scotland