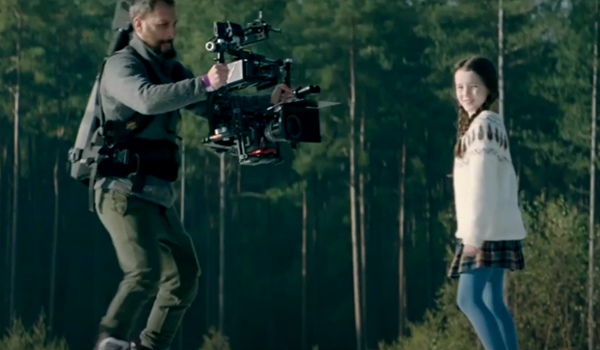 Dundee Ice Arena's very own Darcy Murdoch has become the star of O2's first Christmas advert alongside mascot, Bubl the robot. Darcy, age 10, who attends Birkhill Primary School really does capture the magic of Christmas, and let's face it we can all do with a bit of magic this year.
How the magic happened…
Darcy's coach, Debi Briggs, let her know of the chance to audition for the O2 advert. The young ice dancer then sent over various skating videos of herself including showcasing her current programme, her most impressive jump, a sequence of her choice and a unique TikTok dance that she performed on the ice. After a casting call, Darcy was then selected to star in the advert and what a star she is. Robert Burgerman, a choreographer from Dancing on Ice came to Dundee Arena to work with Darcy for 3 days. Following this, Darcy flew to London for rehearsals, wardrobe fitting and 3 days of filming.
Darcy and Lexi's mum says
"She loved the experience, loved working with Robert the choreographer and the production team. Her friends have been lovely and have shown her lots of support. Some of her school teachers have asked for her autograph. Barry and I as parents are bursting with pride. It is magical to watch both of our daughters on the tv and online platforms performing to the nation to help lift morale during such difficult circumstances. We hope this helps everyone get in the Christmas spirit.
Unwrap the magic of Christmas …
The advert shows Darcy in an epic winter wonderland tentatively taking to the ice rink alone, as though she has never skated before. However, help is at hand from Bubl the robot (a metaphor demonstrating that 02 is always there for you). From there they perform a magical dance together before the dream fades for us all to discover that this has been Darcy's imagination. In fact, she is in her living room with her real-life sister, Lexi (7) watching Anna and Elsa from Frozen skate on the iPad.
The ad was set in the rural location, Bournewood in Surrey at artificial Ice Rink which was digitally enhanced to resemble a lake. Darcy was giving a Styrofoam version of Bubl to give her an idea of his height, length of arms as well as his eye level which can be seen sitting on Darcy's shoulder as well as doing a spiral with her.
Click here to watch the heart-warming story unfold https://www.youtube.com/watch?v=g8XCBBa_usM
To see what went on behind the scenes https://www.youtube.com/watch?v=2p2ATh40iio