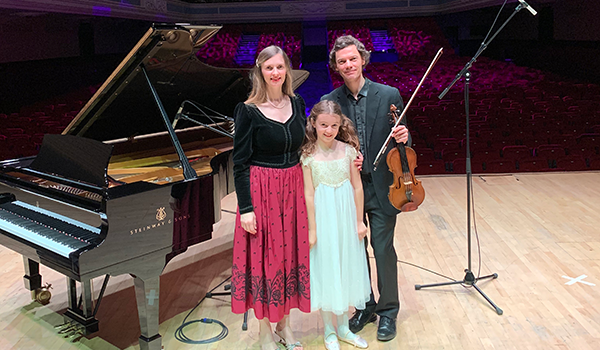 The Caird Hall in Dundee has released a beautiful performance of Silent Night recorded at the historic venue ahead of a concert, Music for Christmas 2020, to be premiered online this Sunday 13 December at 2.30pm.
The carol, one of the nation's favourites, is an instrumental excerpt from the first of two concerts performed without an audience in the atmospheric auditorium. The Music for Christmas 2020 concerts are being shown in the run up to Christmas in the hope of bringing families and older people together to enjoy some festive cheer during this difficult year. The first concert features the venue's Steinway Concert Grand Piano played by Christina Lawrie and Marcus Barcham-Stevens on violin. The second concert on Sunday 20 December at 2.30pm sees the Caird Hall Pipe Organ played by Aaron Hawthorne and stars Soprano Rosie Lavery.
The programmes include Silent Night, In the Bleak Mid-Winter, Joy to the World, Bach, Vivaldi Winter Concerto, Scottish tunes and more. Dundee company, 81 Films, undertook the filming over two full days in the Caird Hall recently.
Susan Gillan, Caird Hall Manager said
"We know that at this time of year our usual programme of Christmas Concerts brings joy and happiness to our audiences and we felt we had to provide music to help everyone through this strange Christmas."

"Music has the effect to transport you to memorable good times. We hope these concerts will be shared with friends, families, relatives and elderly neighbours to bring a light that is missing this year, so that we can all look forward to good times in future."
Pianist, Christina Lawrie said
"In difficult times, music can nourish the soul, and bring solace and good cheer. We have put together a programme which we hope will have something for everyone. It's always a wonderful experience to be in the beautiful Caird Hall, with its magnificent acoustic and splendid Steinway piano, but this concert will hold a special place in our hearts, and we are so happy to be sharing some uplifting music for Christmas 2020. Our little girl Mairi-Anna makes a guest appearance at the end, singing a carol, and that will be a lovely Christmas present for her grandparents."
The first concert will be available via Leisure & Culture Dundee's YouTube Channel on Sunday 13 December with the second available the following week.
The concerts are free to view to ensure accessibility for all and are supported by Creative Scotland's Performing Arts Venue Relief Fund.
#LetTheMusicPlay