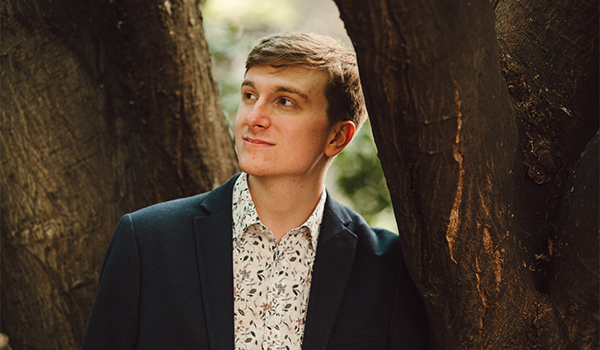 As part of the reopening programme of concerts and events at Caird Hall, a series of free concerts are being staged, supported by Creative Scotland's Performing Arts Relief Fund.
Leisure & Culture Dundee understands that not all customers have the same level of confidence in attending events and hope these free short Concerts provide the opportunity for people to come along and enjoy music and to see the safety features in the venue to support all events.
The next of these Concerts takes place on Thursday 25 November 2021 and features Daniel Peter Silcock.
Originally from Peterhead, in the North-East of Scotland, Daniel Peter Silcock is a freelance pianist active in performing around the country, appearing as solo recitalist, concerto soloist and chamber musician. A graduate of the Royal Academy of Music and the Royal Conservatoire of Scotland, Daniel has recently moved back to the North-East.
Daniel took up a place at the RCS Junior Conservatoire 2009, and began entering and having success in music festivals and competitions, including the BBC Young Musician of the Year. During his time at Juniors' he was winner of the Gilbert Innes Prize for Piano on two occasions, the Beethoven Piano Competition, and also won the concerto competition – leading to a performance of Mendelssohn's G Minor concerto aged fifteen, under the baton of David Danzmayr.
In 2015, at the end of his first year of undergraduate study, Daniel was awarded the prize of Aberdeen and North-East of Scotland Young Musician of the Year. Since then, Daniel has performed as part of the Cantilena festival on Islay, the Music at Paxton festival, the RCS Piano Festival and Mondays at One series, and the Piano Café series at Glasgow Royal Concert Hall, and at the Queen's Hall in Edinburgh. After a busy first year of the MMus degree at the RCS, Daniel was awarded second prize in the Governors' Recital Prize for Keyboard at the RCS, and in November of 2019, was also the winner of the Conservatoire's A Ramsay Calder Debussy Prize. Just after receiving the Debussy Prize, Daniel flew to Italy to compete in the Roma International where he was awarded second prize as an 'Emerging Pianist.'
Daniel has been immensely grateful for scholarships from the Dewar Arts Awards, and Caird Trust, as well as financial support from Help Musicians UK, Cross Trust, and bursaries from the RAM and RCS. Daniel was delighted to have been awarded a bursary to attend the Dartington Summer School with soprano, Ellen Mawhinney in August 2021.
Doors will open at 12.30 pm and the Concert begins at 1 pm for 30 minutes. There is no cost to attend and no requirement to book in advance.
The full programme for the Concert is detailed below-
Plays Chopin
Ballade No. 3 in Ab Major, Op. 47.
Nocturne in C Minor. Op. 48, No. 1.
3 Mazurkas, Op. 50.
Ballade No. 4, in F Minor, Op. 52.