Customer Information
Shows rescheduled to 2021:
Gary Meikle - Surreal - 5 March 2021
Verdi Requiem DCU/St Andrews - 11 April 2021
Paul Heaton & Jacqui Abbot - 13 April 2021
The ELO Experience - 29 April 2021
The Dolls - A Rerr Terr Variety Show - 15 May 2021
Rocket Man - 30 May 2021
Absolute Elvis - 5 June 2021
Rumours of Fleetwood Mac - 28 June 2021
Paul Weller + Support - 6 July 2021
Blazin Fiddles -20 August 2021
Lost In Music - 22 September 2021
Mugenkyo Taiko Drummers - 26 September 2021
Steve Hackett Genesis Revisited - 28 September 2021
Roy Orbison & the Travelling Wilburys - 8 October 2021
What's Love Got To Do With It - 12 October 2021
The Russian State Ballet - Swan Lake - 15 October 2021
Seven Drunken Nights - 16 October 2021
Dead Ringer for Love - 24 October 2021
The Illegal Eagles - 30 October 2021
Sixties Gold - 20 November 2021
Jon Richardson :The Knitwit - 24 November 2021
Original tickets are valid for the new dates.
All Concerts up to and including 30 September 2020 are cancelled/postponed.
Refunds will be issued for cancelled Shows in due course.
Latest News
JOHN BISHOP Right Here:Right Now
Monday 31 January 2022

Phil McIntyre Live by arrangement with Lisa Thomas Management
Comedy superstar John Bishop is delighted to announce his brand-new, highly anticipated 'Right Here, Right Now' World Tour for 2021/2022.
Kicking off in Peterborough on 21 September 2021, this huge tour will visit major theatres and arenas around the UK and Ireland before culminating at The O2 in London on 8 April 2022.
On announcing the World Tour, John said: "I'm excited to announce these new dates for my brand new show 'Right Here, Right Now', which will kick off in the Autumn next year. After the last six months we've all endured, it feels like a lifetime since I last performed in front of a live audience. There's nothing like stand-up comedy to put a smile back on your face, so I can't wait to get back out on the road to perform this new show across the UK, Ireland and around the world."
This will be John's eighth tour and his first since 2017/2018, when he performed to over 400,000 people on his critically acclaimed 'Winging It' tour.
John Bishop has had an incredible career. Within three years of his first ever comedy gig in 2000, John was playing to sold out arena audiences across the country and released the fastest selling stand-up DVD in UK history.
Since then he has achieved huge success with a number of his own comedy, entertainment and documentary shows including: 'John Bishop's Australia' (BBC1), 'John Bishop's Britain' (BBC1); 'John Bishop's Only Joking' (Sky1); 'The John Bishop Show' (BBC1); 'The John Bishop Christ-mas Show' (BBC1) and 'John Bishop's Gorilla Adventure' (ITV1). More recently 'John Bishop's Ireland' for ITV1 and four mammoth series of the critically acclaimed 'John Bishop: In Conver-sation With…' (W Channel) which saw him chatting one to one with some of the biggest names in the world of entertainment, music and sport.
Earlier this month John launched a new podcast with writer, actor and director Tony Pitts called 'Three Little Words', in which the two friends talk to fascinating people about their lives, hopes, struggles and beliefs. The show features a rich mix of guests, from world famous celebrities to scientists, politicians, artists and sports stars, each with an unforgettable story to share. Each guest brings along the three words that mean something important to them - plus the one word they never want to hear again.
'Frankly hilarious'
★★★★
Daily Telegraph
'Bishop has funny bones'
★★★★
The Times
'Two hours of observational humour delivered so skilfully it looks effortless'
Evening Standard
'John Bishop has taken on the mantle of Britain's top comic'
★★★★
Daily Mirror
Tickets £38.50 (£35 + £3.50 bf) on sale now www.dundeebox.co.uk
Jon Richardson: The Knitwit
Wednesday 24 November 2021
Jon Richardson: The Knitwit
Will the recycling be put out on the right day? Who is going to smooth over the top of the margarine? How many lights are on upstairs when everybody is downstairs? Watch Jon pretend that these aren't his foremost concerns as he leaves home on his first tour since the last one.
Best known as a team captain on 8 Out of 10 Cats Does Cats Countdown (Channel 4), host of Dave's Ultimate Worrier, and upcoming sitcom Meet the Richardsons. As well as Would I Lie To You (BBC One), Have I Got News For You (BBC One), Michael McIntyre's Comedy Roadshow (BBC One), And Taskmaster (Dave).
"Whip-smart comedy... His mind is extraordinary." GQ
"Moany old brilliance" Metro
"A wildly funny whinge of volcanic frustrations" The Guardian
Over 14s, under 16s with adult 18+
Maximum 6 tickets per customer
The reselling of tickets will result in cancellation of booking
Tickets £25.00 (£23.00 + £2.00 booking fee)
ROB LAMBERTI - A Celebration of the Songs and Music of George Michael
Friday 10 September 2021
ROB LAMBERTI – A Celebration of the Songs & Music of George Michael The tribute artist that turns a different corner
Picture the juke box centre stage, that iconic BSA leather jacket and unmistakable sound of Mr George Michael. It was 1987. Rob was 14 years old watching an inspirational performance of 'Faith' on Top of the Pops'. Little did he know it would be life changing. Six years later, Rob appeared on national TV on 'Stars in Their Eyes'. He made the 'Live Final' and soon earned the title of the UK's number one George Michael tribute artist which transported him onto the international stage.
However, his greatest honour came when he was offered the dream performance of his life – working on behalf of George for Sony Music to promote the album 25 Live. In a 2014 interview, George was asked if he was ever mistaken for being somebody else, his reply quite simply was "I'm often mistaken for being Robert Lamberti, he is a George Michael lookalike". See Rob's show and it's clear why.
Few tribute artists capture George's musical talent, charisma and passion as closely as Rob Lamberti. With some of George Michael's personal musicians proudly joining Rob's band, his performances are guaranteed to hypnotise your senses and do justice to one of the greatest singer-songwriters of our time.
DEACON BLUE - Cities of Love Tour
Friday 10 December 2021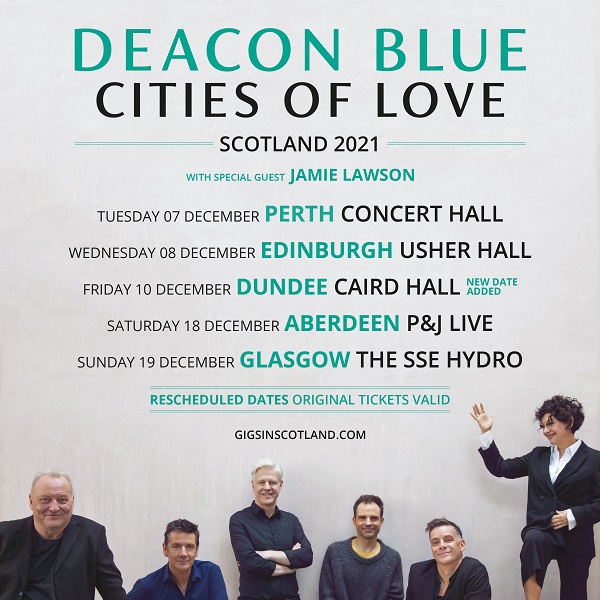 Tickets on sale from Ticketmaster.
Paul Weller
Rescheduled to 6 July 2021
It is with huge disappointment that Paul Weller has had to reschedule his autumn UK 2020 tour due to the current coronavirus pandemic and continued restrictions on public gatherings. Please keep your original tickets they will remain valid for the new date.
Paul's new album On Sunset is out 3 July, new single Village is out now. On Sunset is available to pre-order now on a variety of formats including exclusive products on the Paul Weller Official Store at https://PaulWeller.lnk.to/StorePR.
Dundee Blood Donor Centre - Temporary change of venue
31st March onwards.
From Tuesday 31st March, Dundee Donor Centre sessions will temporarily move to Marryat Hall City Square, Dundee DD1 3BB. This decision has been made to make donating easier for city centre donors during Covid-19. To book your appointment, call us on 0345 90 90 999 (Monday to Friday, 9am – 5pm), or email nss.snbtsenquiry@nhs.net. Appointments are available from six weeks in advance of the session until 4pm the day before.
What's Love Got To Do With It
Rescheduled to 12 October 2021
The Promoter has advised due to the precautionary recommendations from measures taken by the UK Government it will not be possible to move forward with What's Love Got To Do With It? currently scheduled for Monday 27th July 2020. The show will be rescheduled to 12th October 2021. Be assured that the safety and health of artists, staff and fans is our main priority. Hang on to your ticket - it will be valid for the new date.
Rumours of Fleetwood Mac
rescheduled to 28 June 2021
Chas Cole for CMP Entertainment present
Rumours of Fleetwood Mac - Live In Concert 2021
Rumours of Fleetwood Mac, the world's finest tribute to Fleetwood Mac, returns to the stage in 2021 with a brand new show celebrating the very best of Fleetwood Mac, including a very special blues set paying tribute to Fleetwood Mac's legendary Peter Green era.
Channelling the spirit of Fleetwood Mac at their very best, Rumours of Fleetwood Mac offers a unique opportunity for fans, both old and new, to rediscover the songs and performances that have ensured Fleetwood Mac's place as one of the most loved groups of all time.
Personally endorsed by Fleetwood Mac founding member, Mick Fleetwood, Rumours of Fleetwood Mac is the ultimate tribute to one of rock and roll's most remarkable groups.
Paul Heaton & Jacqui Abbott
Rescheduled to 13 April 2021
Original tickets are valid for the new date.
Artistes Statement
Due to the ongoing situation across the world, and in particular the inaction by our own government, we feel we have no choice but to reschedule the forthcoming UK & Ireland tour dates immediately. The shows will now take place in October and November, with all tickets remaining valid for these new dates..
Paul and Jacqui would like to pass on their sincere apologies for the inconvenience this may cause you all but also feel the safety of the public is paramount. We wish you good health and safety over these coming months and hope to see you all fighting fit in the Autumn.
Jason Manford: Like Me 2021
Sunday 25 April 2021
He's back!  It's been a busy few years for Jason since his last smash-hit stand up show but fans of his Absolute Radio show will know this nationally acclaimed comedian hasn't changed a bit.  'Like Me' is Jason's latest comic offering set to hit the road, and is sure to be 'expert observational comedy' (The Guardian) mixed with 'comic gold' (Mail on Sunday).
Jason said:  "After the fun we had on my last tour 'Muddle Class', I'm excited to get back on the road with my new stand up show, 'Like Me'.  In these trying times it's always important to be able to get away for a couple of hours and exercise the old chuckle muscle!  So I'm coming to a venue near you in 2021 so we can have a good laugh together.  See you then."
'First & Last' (BBC One), 'The Masked Singer' (ITV1), 'What Would Your Kid Do?' (ITV1), 'Olivier Awards' (ITV1), 'Scarborough' (BBC One), '8 out of 10 Cats' (Channel 4), 'The Nightly Show' (ITV1), 'Sunday Night at the Palladium' (ITV1), 'Live at the Apollo' (BBC One), 'Have I Got News For You', (BBC One), QI (BBC Two) and 'The Royal Variety Performance' (ITV1) have all helped establish Jason as a nationally known comic.
"Effortlessly entertaining" ****
Evening Standard    
"He's blessed with the sort of laid-back charm and sharp turn of phrase you can't manufacture" ****
Daily Telegraph
"Engaging and Witty"
The Sunday Times
"Manford, in short, is a total pro."
The Times
"Manford successfully straddles the line between contemporary stand-up and old-school mainstream entertainment."
The Guardian
"…you'll doubtless love this show"
Manchester Evening News
jasonmanford.com
@JasonManford
Steve Hackett Genesis Revisited - Seconds Out & More
Rescheduled to Tuesday 28 September 2021
Steve Hackett announces re-scheduled UK dates, due to COVID19 Pandemic for his Seconds Out +More World Tour. The Concert at Caird Hall Dundee is rescheduled to Tuesday 28 September 2021. Original tickets are valid for the new date.
The show will feature the 1977 Genesis live album Seconds Out in full, plus More!
Seconds Out was the hugely successful double album recorded on Genesis' 1977 concert tour together with The Cinema Show, from their 1976 tour, and featured Steve Hackett on guitar alongside Mike Rutherford, Tony Banks and Phil Collins who had taken on the role of vocalist following the departure of Peter Gabriel. The tour included music from each of the six studio albums from Steve's time in Genesis and marked his final recordings with the band as he left to pursue his solo career upon its completion.
"I hugely look forward to being back on the road in the UK, bringing the whole of Seconds Out back to life! The set features some of the most thrilling Genesis material, this time all numbers played in full, plus additional surprises..." Steve Hackett
Steve will be joined on the tour by regular musicians Roger King (keyboards), Jonas Reingold (bass), Rob Townsend (saxes/flutes) with Nad Sylvan on vocals. Craig Blundell (Steven Wilson, Pendragon) will be on drums & percussion - he was voted by Modern Drummer and Rhythm Magazine readers as one of the top progressive and forward thinking drummers in the world……
Steve's autobiography, A Genesis In My Bed is published on 24th July. Steve talks candidly about his early life, his time with Genesis, and in particular his personal relationships with the other four band members, with great insight into the daily goings on of this major rock band.
Gary Meikle - Surreal
Rescheduled to Friday 5 March 2021
"After his meteoric rise through the ranks, Scottish Comedy Award winner and viral sensation Gary Meikle is back with his second tour show, Surreal! A word that perfectly describes Gary's last twelve months. He started the year performing in comedy clubs, and ended it selling out big theatres in the UK as well as tours in America, Canada and Europe! .
Not one for mincing his words, Gary has been described as "playfully dark". His cheeky chappie nature and ability to get away with talking about anything will have you laughing at things you probably shouldn't be! As always, Gary will draw material from his own real-life experiences, including his unique family dynamic and his rapid rise to online fame. Quickly putting his audiences at ease, a night of stand up with Gary feels like a night in the pub chatting with friends!
Having performed to tens of thousands of people over the past year, Gary has found a new confidence and level of openness on stage, meaning he doesn't hold back on giving his opinions, no matter how warped! The new show will cover topics such as evolution, social media, how to deal with burglars, single mums, bee sex, small man syndrome and much more. Gary is a fast paced, punchy storyteller that finds the funny in anything!"
Age Restriction 16 +
Max 6 tickets per customer. 
Caird Hall Conference Suite
Caird Hall is Dundee's high-profile conference and concert venue, located in the heart of the city. Situated close to all travel links, with several car parking options nearby, and a range of accommodation within walking distance, Caird Hall is easily accessible for your delegates.
Rooms vary from Theatre style set-up accommodating 60 people, to a more intimate Boardroom layout for 14 people. Free Wi-Fi is available throughout, and our professional staff are available on site to assist with the organisation of your meeting.
For further information on rates and to view, please contact Caird Hall (01382) 434451 or email cairdhall@leisureandculturedundee.com