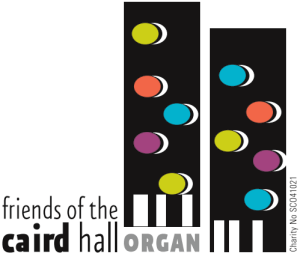 The magnificent Harrison & Harrison organ in the Caird Hall is one of Dundee's cultural jewels. It has been hailed by eminent recitalists as "the finest concert organ in Scotland" and it ranks among a handful of outstanding organs in the world.
The Friends of The Caird Hall Organ (Scottish Charity No. SC 041021) promote and support the organ so that as many people as possible can hear and enjoy its glorious sound. The Friends arrange recitals, concerts, educational projects and other events involving the organ.
By raising funds The Friends also assist in securing the organ's long-term future as an important part of the city's cultural heritage.
The Friends are delighted to have Dundee-born international concert organist, Gordon Stewart, as their Honorary President. Visit our website to read about The Friends' initiatives and become a fan on Facebook!
Application Form
Download an application form (2.01MB PDF) and become a Friend of The Caird Hall Organ.
By doing so you will help to "pull out all the stops" to promote the organ to a wide public and secure its future for generations to come.