All information on this page is correct as of 13th September 2021, this will be updated as and when new information is available.
GENERAL CHANGES
A face covering must be worn by everyone over the age of 12 in the communal areas, except where an exemption applies (as defined in the legislation), once you have reached your destination (group exercise class or gym/swim session) you can remove your mask. If you wish to wear a mask to train in the gym/group exercise class then please do, however, we will not be enforcing the wearing of masks during physical activity.  
When you first enter the centre there will be hand sanitisation stations which we request that ALL customers use. Additional hand sanitiser units have been positioned in key areas across the centres.  
You will need to keep your membership card handy for tapping/swiping into your session. To minimise contact, you will be asked to tap/swipe this yourself.  
Showers, hairdryers, lockers and changing rooms are in operation. It is preferred that you come 'beach/gym ready' and we would encourage users to spend the minimum time required in these areas at this time.  
We have members of staff on hand but please maintain a reasonable distance when requesting assistance from team members and other users. 
Following a change to the set distance between fitness equipment in industry guidance, customers will notice a reduction in space between fitness equipment. To ensure customer comfort and confidence, fitness equipment will be positioned in a way to maintain as much distance between customers as possible, meaning that some equipment may not return straight away. 
Please adhere to all information signage in the facilities. Please remember to give other users space to queue, change, work out etc.   
Our saunas (Lochee and Douglas) and the steam room (Lochee) remain unavailable at this stage.   
Please ensure that you arrive with a full water bottle for your workout as water fountains have been placed out of order.  
It is essential that members clean down each machine before and after use.  
Members are encouraged to bring their own mats for stretching/core workouts and classes however there will be mats available. We ask that all mats are fully sanitised before and after each use.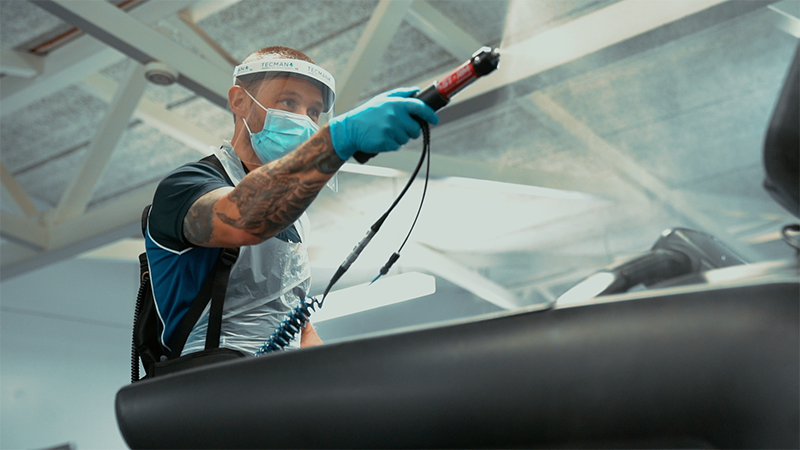 CLEANING
CLEANING, SANITISING & DISINFECTING
We have implemented an enhanced cleaning regime throughout the centres following on from guidelines from QLM, UK Active and the Scottish Government.   
There will be a thorough clean at the beginning and end of each day and gym equipment will be sanitised at regular intervals throughout the day. All staff have had training and they'll be using a three-step cleaning process including a disinfectant.   
Hygiene stations are available in all high-touch areas offering hand sanitiser, a sanitiser spray and blue roll for cleaning the machines/equipment before and after use. Please only use the wipes and paper towels provided and dispose of them after each use.
TRACK AND TRACE
We are following the Scottish Government guidelines and collecting track and trace information from non-members to ensure that we have a way of contacting everyone who has entered our facilities should someone contract the Virus. Our Leisureactive sites all have QR codes displayed in reception areas for users to scan for trace and protect purposes. Contact information can also be provided and written down by staff at reception if the QR code cannot be scanned.
THE CENTRES - WHAT'S ON
Olympia Leisure Centre - Gym, Customised training programmes, Group exercise classes, Aquafit, Lane swimming and Leisure pool**.
Lochee Swimming & Leisure Centre - Gym & Swim sessions
Dundee International Sports Centre (DISC) - Gym & Group Exercise, Sports hall hire 
Douglas Sports Centre - Gym, Customised training programmes & Group Exercise & Sports hall hire
Grove Swim & Sports Centre - Gym & Swim sessions & Sports hall hire 
Harris Swim & Sports Centre - Gym & Swim sessions & Sports hall hire
St Pauls Swim & sports Centre - Gym & Swim sessions & Sports hall hire
Menzieshill Community Hub - Group Exercise Only & Sports hall hire
**Weekends only, no access to flumes and rapid river at this stage.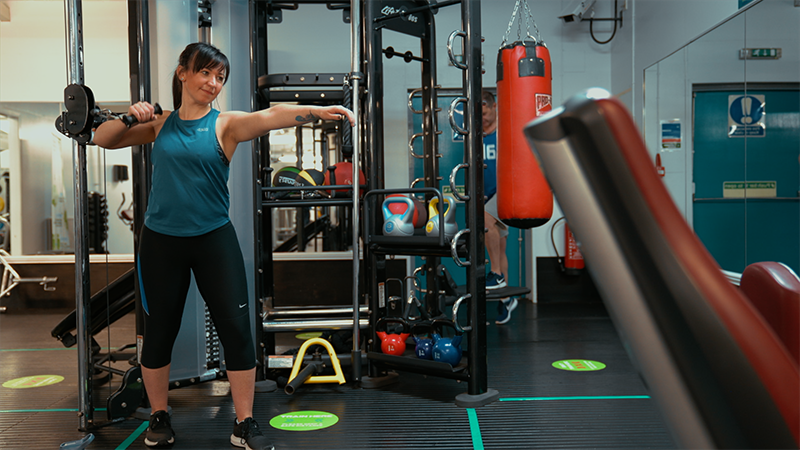 BOOKING
View and book your gym session*, customised gym session, swim** or group exercise session online via Connect (our online booking system), on the Leisureactive app or by telephoning the reception desk at the centre you wish to visit. Please note that the last entry for each gym session is 30 mins before closing. 
*From Monday 20th September advanced bookings for gym sessions at Grove, Harris and St.Paul's Swim & Sport Centres are no longer required.
**From Monday 20th September advanced bookings for public swim sessions at Lochee, Grove, Harris and St.Paul's Swim & Sport Centres are no longer required. Advanced booking is still required for Olympia weekday swim sessions from 4pm and the Leisure pool at weekends.
Leisureactive members can book 8 Days in advance,
Active Lifestyle Cardholders 5 days and Non-Members can book 3 days in advance.
MEMBERSHIPS
New Members Welcome! We look forward to welcoming new members into our Leisureactive community, to find out more about our memberships click here.