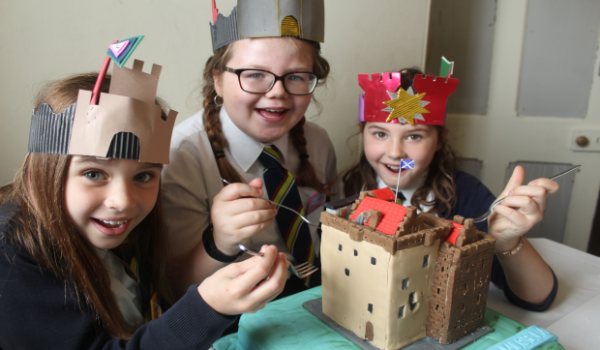 Today, Broughty Castle celebrated 50 years as a museum. The anniversary was marked, as all birthdays should be, with a cake and a celebration for invited guests led by the pupils of P5 from Forthill Primary School.
For over five hundred years, Broughty Castle has stood proudly at the mouth of the Tay. Occupying a commanding position, the Castle has served as family home, coastal fort, fish house for salmon curing, military garrison, and even a tearoom. Today it is a much loved museum, home to four floors of displays focussed on the social, cultural and natural history of Broughty Ferry. At the very top of the Castle is the Observation Deck which gives magnificent views of the beach and Tay estuary.
The museum is run by Leisure & Culture, Dundee. Sinclair Aitken, Chair of its Board, comments
"Broughty Castle Museum is a much loved landmark. It is both a stunning backdrop to our daily lives and from within provides its own panoramic views of the Tay estuary. It has long played a key role in Dundee's tourist offer and remains free to enter. I am delighted that we have reached this landmark date, by welcoming a new generation of visitors to the museum today."
The Museum displays examine the unique history of Broughty Ferry, showcase the nationally significant art collection of Broughty Ferry Provost JG Orchar (1825-1898), explore the wildlife of the Tay valley and consider the contribution of the Volunteer Artillery forces and Submarine Miners.
Admission is free and summer opening hours until the end of September are Mon – Sat 1000-1600, Sun 1230-1600. Between October to March the Castle is closed on Mondays, open Tues – Sat 1000 – 1600, Sun 1230-1600.