Wig-maker in Edinburgh who rapidly prospered. Joined the Jacobite "Easy Club" and there entertained his fellow members with his early poetry.
By 1718 he had given up wig-making and became a bookseller. In 1719 he published a volume of "Scots Songs" which soon ran to a second edition. Between 1724 and 1727, Ramsay published three volumes of collected English and Scottish traditional ballads, together with songs he and his friends wrote, under the title of "The Tea-Table Miscellany". One of Ramsay's own compositions was "The Lass o' Patie's Mill", which can be found in William Thomson's "Orpheus Caledonius".
In 1725 he published "The Gentle Shepherd", which brought Ramsay instant success. By 1750 "The Gentle Shepherd" had reached a tenth edition. This pastoral drama, at first without songs, caused Leigh Hunt to write "Ramsay is in some respects the best pastoral writer in the world" and Pope is known to have admired the work.
Ramsay started a circulating library, the first of its kind in Scotland and his shop was a favoured meeting place for literati. He corresponded with Gay and Pope and was much in demand in the drawing-rooms of Edinburgh.
After 1730 Ramsay virtually stopped writing, and with admirable and rare perception said that he preferred not to take the risk that "the coolness of fancy that attends advanced years should make me risk the reputation I had acquired".
He died aged 72 and was buried in Old Greyfriars churchyard where there is a monument to his memory. In Princes Street Gardens, Edinburgh, there is a statue of Ramsay.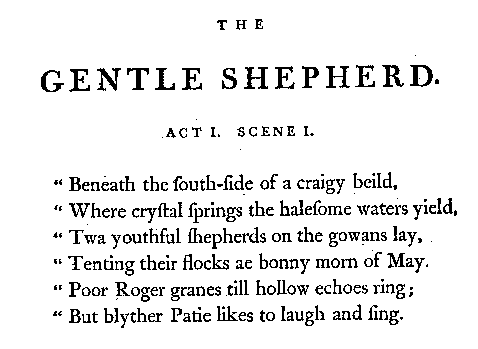 Editions in the Wighton Collection
The Gentle Shepherd, a pastoral comedy, with a glossary, songs set to music and 12 plates engraved in aqua tinta by D. Allan, with a portrait of the author. pp. XII+148. 4to.(Glasgow 1788)
The Gentle Shepherd. The overture, songs and duetts in the pastoral opera of the Gentle Shepherd, as it is performed at the Theatre Royal in Drury Lane. pp. 24. oblong 4to.
A setting by Cedric Thorpe Davie of The Gentle Shepherd.
The Gentle Shepherd, 1947, for solo voices and small orchestra. Full score in the hand of CTD — 37pp; pencil sketches — 15pp. Music for the play by Allan Ramsay which was adapted for broadcasting by Maurice Lindsay. The music consists of fourteen songs to traditional tunes. . The SMIC possesses a photocopy of the full score.
Performances:
Broadcast 9 July 1947 in a production by Robert Kemp, by the BBC Scottish Orchestra, conducted by Ian Whyte, with soloists Mary Ferrier, Mary Alexander, Kenneth MacKellar and Alex Carmichael, and Duncan Macrae as storyteller.
Broadcast 5 January 1958 in a production by Robin Richardson and conducted by CTD. The Gentle Shepherd, 1949, for 8 solo voices, flute, oboe, clarinet, bassoon and 1810-20 piano. Full score in the hand of CTD — 115pp; pencil sketches — 43pp.
This is not the same version as the above, although it uses some of the same tunes, reworked and rescored, and there are additional instrumental numbers. Both versions were adapted by Maurice Lindsay, this one for the Edinburgh Festival, where it was produced by Tyrone Guthrie. The SMIC possesses a complete set of vocal and instrumental parts and a photocopy of the full score.
Performances:
1949 Edinburgh Festival in the Royal High School. It was broadcast by the same performers in October of that year. The instrumentalists, all members of the Royal Philharmonic Orchestra, were Gerald Jackson (flute), Jack Brymer (clarinet), Terence McDonagh (oboe) and Edward Wilson (bassoon), with CTD conducting from the keyboard.
1962 Citizens' Theatre, Glasgow.
1986 Edinburgh Festival, by students of the Royal Academy of Music and Drama, Glasgow.