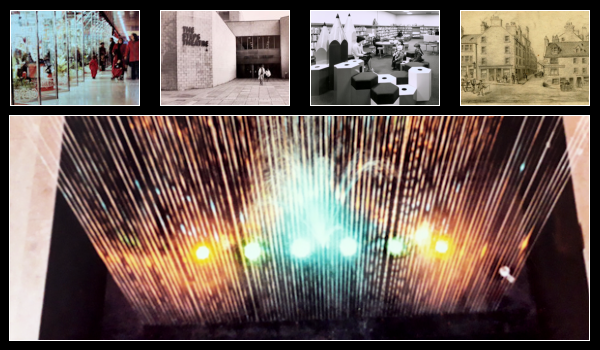 Forty years ago, Dundonians were exploring the brand new Central Library in the Wellgate Centre which opened in December 1978. The library undertook a short move away from its previous home in The McManus Galleries, where the ever-growing selection of books was beginning to outgrow the space it shared with the city's museum and art collections. The new building offered new library departments focused on art, music and business, as well as a popular record library and Dundee's first mobile library service, whose van carried 2000 books to the outskirts of the city. The move marked another step in the Dundee's eventful library history, which is said to reach back to the 1280s when Lady Devorgilla of Galloway made a gift of books to the city.
In 2018, books are still at the heart of the Library Service. While providing the traditional services of lending books and reference enquiries for communities, it has now expanded to provide access to a wealth of support in areas of digital support, health and wellbeing. Central Library has also consistently been recognised as the busiest public library in Scotland.
The Wellgate Shopping Centre opened also its doors for the first time in 1978, after almost three years of building works. The centre was built on the site of the old Wellgate, a street with a long history of its own. The name is first recorded in 1409, and referred to the road leading to the Lady Well, the town's main source of water for centuries.
The shopping centre has seen many changes over the decades, but one favourite landmark still draws crowds and inspires happy memories - the Wellgate clock, whose animated characters have delighted generations of Dundee children. Recently, the clock inspired the design for one of the Maggie's Penguin Parade penguins, Tick Tock, who now has a permanent home in the Wellgate.
Sinclair Aitken, Chair of Leisure & Culture Dundee said:
"Public Libraries have a fantastic history in Dundee and Central Library is no different, generations have benefited from the books and resources we have available here. We continue to develop and deliver the service so that we can provide a dynamic and quality resource for the people of Dundee and beyond."
To mark the 40th anniversary of the Wellgate Centre, Dundee Central Library will be hosting a reminiscence session on the afternoon of Saturday 8 December. Digital Storyteller in Residence Dan Brown and the Local History Centre's Erin Farley for a drop-in session between 12 noon and 4.00pm, where you can browse the library's collections of photographs and articles of the Wellgate before and after 1978, share your memories, and contribute to a digital story about the history of the Wellgate and libraries in Dundee…
Press Release Date: 6 December 2018